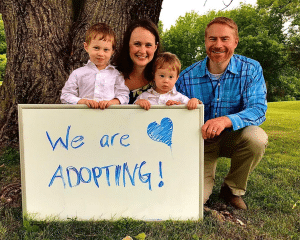 We are so excited to introduce you to a wonderful home-study approved Purl family from beautiful Vermont: Simeon, Julia, and their adorable boys Joseph and Dominic! Simeon and Julia met at a dinner that Julia was hosting among mutual friends. Several months later they went on their first date and have been together ever since. In 2014, they were married and soon after settled down in Vermont, near Julia's parents and family farm. Julia and Simeon have always dreamed of a big family and are hoping to expand their family through adoption. In their own words, they "love the life, energy, joy, friendship, and laughter that children bring".
This loving family values their Catholic church, community, and the closeness of their loved ones. Simeon works in church ministry, and has a love for music, poetry, and art. Julia describes him as a thoughtful, and caring father. His first priority is his family. Julia is a stay at home mom, as well as a part-time counselor. In Simeon's words, she has a compassionate, gentle soul. Julia is a nurturing, deeply loving wife and mother. They both enjoy being silly and having fun with their two boys, who love to sing, dance and wrestle with dad. Joseph and Dominic can't wait to be big brothers together.
If you or someone you know is facing an unplanned pregnancy and considering adoption for their child, we hope that you will think of Simeon and Julia. To learn more about them, download their family profile. If you want to reach out to them directly, you can call/text them at (802) 559-0260, or email them by filling out the form below.