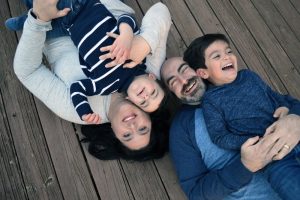 We are so thrilled to introduce you to this amazing, home study approved Purl Family from Virginia: Erik, Teresa and their handsome boys Gabriel and Michael! They are a silly loving family that enjoys taking adventures together, even if it is just a picnic in the backyard. They adopted their oldest son, and do their very best to honor his story every day, as they want him to feel empowered by it. They cannot wait to grow their family through adoption, again!
Erik and Teresa met in a community band and continue to share their love of music with their children. They have been known to break out into spontaneous family dance parties (as they took ballroom dance together for 7 of their 9 married years). Teresa loves to cook and Erik loves to garden. Erik is the kindest person Teresa knows and is ready with a "dad joke" at any moment. Teresa is fiercely loving and protective of her family, she gives the best hugs. Gabriel is smart, funny, and full of life! He is such a great big brother and is so excited to help out with a new sibling! Michael is a determined and affectionate little boy. He loves to snuggle and explore the backyard, looking for all different kinds of bugs and flowers! They have no doubt that he is going to be such a good big brother! Their family has grown through adoption with the addition of their first son, Gabriel. Erik and Teresa are so excited to see what the future holds for them on this adoption journey!
If you or someone you know is facing an unplanned pregnancy and considering adoption for their child, we hope that you will think of Erik and Teresa. To learn more about them, download their family profile. If you want to reach out to them directly, you can call/text them at (703) 539-2911, or email them by filling out the form below.