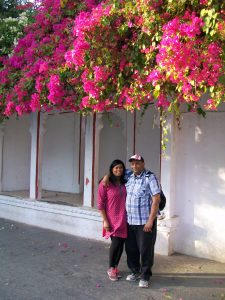 We can't wait to introduce you to this beautiful, home study approved (and certified to adopt) Purl Family from Arizona: Vikram and Florence! When meeting for the first time, it was love at first sight. They are happily married and are so excited to become parents through adoption!
Vikram and Florence love spending time together, whether it's cooking or just talking. They have a close-knit and diverse group of family and friends, and frequently have gatherings and travel together. Florence loves to hang out with her siblings and their children. Vikram says she is always so encouraging and supportive to him and those around her. In Florence's words, Vikram is a loving and considerate husband. He can be found on any given weekend fixing or upgrading things around their home. She is thankful to be able to walk through life with him, and they are thrilled to be growing their family through adoption!
If you or someone you know is facing an unplanned pregnancy and considering adoption for their child, we hope that you will think of Viram and Florence. To learn more about them, download their family profile. If you want to reach out to them directly, you can call/text them at  (224) 622-0116, or email them by filling out the form below.