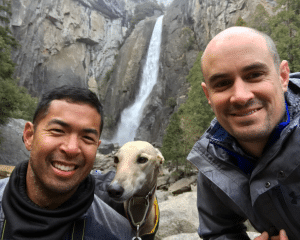 We are thrilled to introduce you to this wonderful, home study approved Purl Family from California: John and Joe! These two met 8 years ago while they were both living in China. John loves to compete in triathlons and Joe is a marathon runner; their first date was a 10km run, where they instantly connected. They were married in 2018, and can't wait to start their next journey together: parenthood!
John and Joe love adventures! Whether it's camping in the mountains, weekend road trips or trips to see John's family, they always have something in the works. In Joe's words, John is a very loving and caring person. He is always making sure that those around him are taken care of. Joe says that John has taught him that life is about experiences and the challenge of new things. According to John, Joe is thoughtful, kind and loyal. He is driven and cares deeply for others. John says that Joe is always putting his friends and family first and is constantly inspiring him to be better. John and Joe both grew up in large, tight knit families and can't wait to start their own. They believe that life is an adventure and being able to love a child is one of the biggest adventures they are looking forward to!
If you or someone you know is facing an unplanned pregnancy and considering adoption for their child, we hope that you will think of Joe and John. To learn more about them, download their family profile. If you want to reach out to them directly, you can email them by filling out the form below.