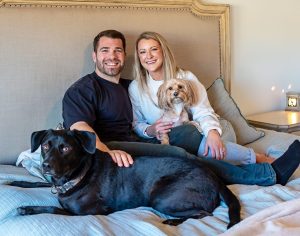 We would love to introduce you to this amazing, home study approved Purl Family, and Texas couple: Kevin and Destiny! Soon after they met, these two became inseparable best friends, which grew into an undeniable love. They enjoy being active, laughing, and snuggling with their puppies. Kevin and Destiny can't wait to add the snuggles of a little one to the mix through the journey of adoption!
Kevin and Destiny spend many weekends hosting game nights with family and friends. This Texas couple enjoys pickleball, backyard games, and family gatherings. In Kevin's words, Destiny is everything that comes to mind when you hear the word kindness. He says that this kindness, along with her incredible patience and heart of gold will make Destiny an excellent mother. According to Destiny, Kevin has an immense ability to light up a room and make every situation fun. She can't wait to start the journey of parenthood with him and see him show their child the love he shows her daily. Kevin and Destiny love to travel and go on family vacations. Exploring new places, learning other cultures, and having a life of adventure are things they are eager to share with a child of their own. They are so excited to add to their loving family through adoption!
If you or someone you know is facing an unplanned pregnancy and considering adoption for their child, we hope that you will think of Kevin and Destiny. To learn more about this Texas adoptive couple, download their family profile. If you want to reach out to them directly, you can call/text them at (832) 543-7273, or email them by filling out the form below.