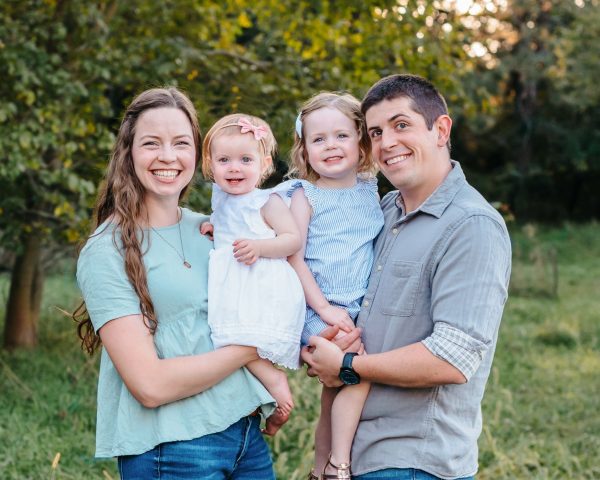 We are so excited to welcome another beautiful, home study approved Purl family from Nebraska: Brian and Allie and their two sweet girls Rose and Lucy! Since their first burger date 11 years ago, they've created a life full of laughter, kindness, and the simple joy of being together. Being parents is their favorite adventure and they can't wait to grow their family through adoption.
This family loves spending time together and makes a point of doing so everyday over family dinner or playtime in the evening. They spend lots of time outside and love running through the sprinklers, building snowmen, or visiting the French bakery in their neighborhood. Allie says Brian has one of the purest hearts of anyone she's ever met and that he always puts his family first. Brian describes Allie as a perfect mix of imagination, will, and love that makes every dream seem possible. As parents, they focus on positive parenting and telling their girls "I love you no matter what" every single night. Rose and Lucy are complete opposites, but united in their love of chocolate, dress up, and playing fetch with their Goldendoodle, Elsa. They're surrounded by a loving, supportive extended family in which many members have been intimately touched by adoption. Their house is joyful, loud, silly, and full to the brim with love. They can't wait to celebrate the special story of their new little one's life!
If you or someone you know is facing an unplanned pregnancy and considering adoption for their child, we hope that you will think of Brian and Allie. To learn more about them, download their family profile. If you want to reach out to them directly, you can call/text them at (402) 913-0325 or email them by filling out the form below.