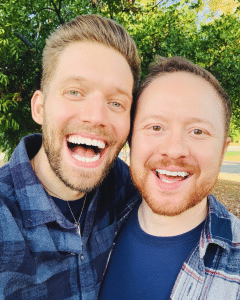 We would love to introduce you to this great home study approved Purl Family from California: Ross and Alex! They live with their two pets: a 9-year-old cat named Davy and 6-year-old dog named Hudson. They've talked about their desire to add to their family through adoption since the start of their relationship and after renovating their house over the past year, they are excited to welcome a child into the new nursery!
Alex's proposal went down in history as he popped the question on a morning hike, followed by throwing a surprise engagement party with family and friends from across the country, and ended it with a surprise acoustic performance by Taylor Swift! Originally from the East coast, each year Alex and Ross do a two-week road trip to visit all their family for the holidays across four states. Ross is an avid gardener and grows his own vegetables. Alex is an excellent cook and enjoys coming up with recipes for the vegetables Ross grows – the perfect balance! Alex says that Ross is one of the smartest, and most caring people he knows. He can't wait for a child to feel the love that he feels from Ross every day. According to Ross, Alex has the biggest heart and he is a natural caretaker. He says that as a father, Alex will shower their child in love and support, and always make sure that they feel heard. Ross and Alex have spent the past six years learning to be great partners to each other and building a beautiful and safe home to raise a child in. They are beyond ready and excited to bring a child into their family through adoption and surround them with their love.
If you or someone you know is facing an unplanned pregnancy and considering adoption for their child, we hope that you will think of Ross and Alex. To learn more about them, download their family profile. If you want to reach out to them directly, you can call/text them at (323) 536-2990, or email them by filling out the form below.