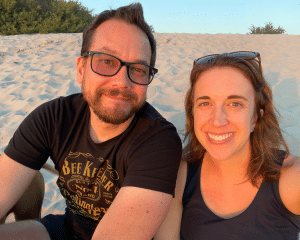 We would love to introduce you to this wonderful, home study approved Purl Family, and adoptive California couple: Wesley and Kate! They met on a dating website with their first date in a coffee shop, they were both interested to learn about each other. Come to find out they had so much in common! A year later they got married, and continue to enjoy life together! Wesley and Kate both feel lucky to have finally met the person that makes life easier and more fun. They are so ready to share their lives and their love with a little one through adoption!
Wesley and Kate love hiking, traveling, exploring the town, spending time with family. They regularly get together with their wonderful neighbors for activities like cocoa nights, cookouts, and outdoor movie nights. They can't wait for a little one to join in on the fun! According to Wesley, Kate is giving, kind-hearted, and truly one-of-a-kind. Even though he already knows it, Wesley gets told by neighbors, friends, and family how amazing of a mom Kate will be. In Kate's words, Wesley is a kind, generous man, and a natural caretaker. She can't wait to see him as a dad, as she knows he's going to be amazing at it. After the experience of being foster parents to two beautiful babies, adoption became their shared passion for how they would grow their family. They are beyond excited to be on this journey of adoption together!
If you or someone you know is facing an unplanned pregnancy and considering adoption for their child, we hope that you will think of Wesley and Kate. To learn more about this adoptive California couple, download their family profile. If you want to reach out to them directly, you can call/text them at 916) 905-6810, or email them by filling out the form below.