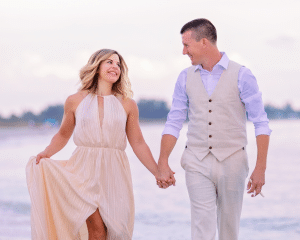 We're so happy to introduce you to this beautiful, home study approved (and certified to adopt) Purl Family, and Arizona adoptive couple: Drew and Christine! It was love at first sight when these two met in 2008. They have been married for 14 years and are ready to grow their family. Drew and Christine have always known they have wanted to adopt, as Christine was adopted, and they are so excited to grow their family in the same way!
Drew and Christine share a passion for so many things, including being outdoors. This Arizona family loves hiking, traveling, being on the water, nature, camping and living life to its fullest. In Drew's words, Christine is calm, loving, adventurous, and the most caring woman he has ever met. She has a passion for living life in the best possible way and following her dreams. He says that Christine is eager to have a little one to bring on all their adventures. As Christine puts it, Drew is a loving, caring, kind and hardworking man. He loves making people laugh whenever he gets the chance. She knows he is going to be the best father she could ever imagine. Drew and Christine are so excited to start this new chapter in their lives: adoption!
If you or someone you know is facing an unplanned pregnancy and considering adoption for their child, we hope that you will think of Drew and Christine. To learn more about this Arizona adoptive couple, download their family profile. If you want to reach out to them directly, you can call/text them at , or email them by filling out the form below.