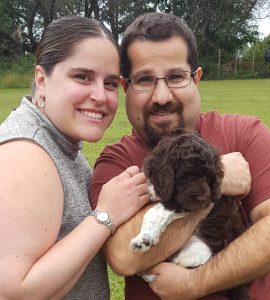 We can't wait to introduce you to this amazing, home study approved Purl Family from Pennsylvania: Frank and Christina! They are a fun-loving, adventurous couple who enjoys spending time with family and friends. Being Italian, their lives center around food, hospitality, and sharing good conversation. Having always wanted to grow their family, Frank and Christina turned to adoption when they discovered they were unable to conceive. They are beyond excited to embark on this new chapter of their lives!
They met in 2009 and got engaged several years later in Italy, in Frank's father's hometown. They love spending time together and having fun, like participating in summer mini-golf tournaments, going to concerts, watching movies or even ice cream outings! They have a labradoodle dog named Thor who loves to give hugs and kisses and can jump vertically when he is excited. Christina loves painting, gardening and creating her own jewelry and wreaths! She is very creative and can't wait to share this with a child some day. Frank enjoys listening to and playing music, and going on any adventures that involves the outdoors. He has been playing the Bass since he was 16, and is so excited to share these interests with a child, and teach them to appreciate music, just as he does. Frank and Christina want so much to be parents and cannot wait to hold, love and adore a child through the gift of adoption. They truly believe that everything happens for a reason, and it's all part of God's plan.
If you or someone you know is facing an unplanned pregnancy and considering adoption for their child, we hope that you will think of Frank and Christina. To learn more about them, download their family profile. If you want to reach out to them directly, you can call/text them at (484) 808-7737, or email them by filling out the form below.