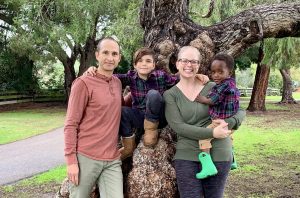 We are so excited to introduce you to this amazing, home study approved Purl Family from California: Enrique, Emily, and their adorable boys Mateo and Julian! This sweet family lives in a beautiful, diverse community in Southern California, and they are thrilled to grow their family through adoption again. Enrique and Emily met in 2008 and have been inseparable ever since. They were married in Enrique's home country, Honduras, in 2011 surrounded by their closest friends and family. This family is bilingual, speaking both Spanish and English at home, and they share a love of food and cooking!
This family loves being outside, exploring, riding bikes, going to the beach and local parks – anything to keep their active boys moving! They say that their best days are spent together as a family, whether out on an exciting adventure, spending time at home playing in our back yard or snuggling during Saturday movies and PJs night!  Their two boys have brought so much love and joy into their lives and they are excited to have another child to their family. They adopted both of their boys at birth and they have open relationships with both of their birth families.
If you or someone you know is facing an unplanned pregnancy and considering adoption for their child, we hope that you will think of Enrique and Emily. To learn more about them, download their family profile. If you want to reach out to them directly, you can email them by filling out the form below.