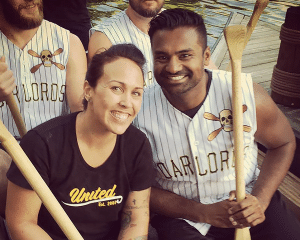 We're delighted to introduce you to this incredible, home study approved Purl Family from California: Mike and Erin! These two met when they were put on the same canoe race team (even though their paths have crossed for 5 years without knowing it) and they had an instant connection; bonding over their similar taste in music and bands. Mike and Erin love a good adventure and can't wait to begin their new one of parenthood through adoption!
Mike and Erin enjoy National Parks and try to visit a new one each year; they have been to 13 so far and hope to get to all of them. They are eager to share these experiences with a little one! In Mike's words, Erin is compassionate and she loves animals and helping others. He says that she supports everything he does, and he is so excited to see her become a mother. As Erin puts it, Mike is the most optimistic person she knows, and has a way of seeing the good in everyone and everything. She can't wait to watch him be a dad! Mike and Erin have always known they wanted to adopt, and are so excited to grow their family by adoption!
If you or someone you know is facing an unplanned pregnancy and considering adoption for their child, we hope that you will think of Mike and Erin. To learn more about them, download their family profile. If you want to reach out to them directly, you can call/text them at (657) 201-9660, or email them by filling out the form below.