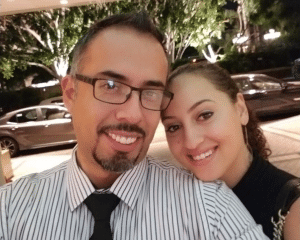 We are thrilled to introduce you to this lovely, home study approved (and certified to adopt) Purl Family from Arizona: Roberto, Jill and their beautiful daughter Victoria! They are a multi-racial, bilingual, adventurous family who loves to laugh. Roberto and Jill welcomed Victoria into their lives by adoption, and they have so much more love to give. They can't wait to grow their family through adoption again!
Roberto and Jill have been married for 8 years. Diversity is heavily celebrated in this family, as they come from all over the country and have a wide variety of ethnicities blended together. They are avid travelers and enjoy experiencing other cultures through food, language, customs, and traditions. Roberto and Victoria are also bilingual, they speak Spanish and English. According to Roberto, Jill is driven, strong and nurturing. He says she's a fantastic wife and mom, and he couldn't possibly ask for more! In Jill's words, Roberto is persistent, hardworking,  and funny and is the most sensitive, gentle and nurturing father. Victoria is a sweet and sassy little girl who loves dancing, swimming, music, reading and crafts. She is already talking about all the things she wants to do and share with her little brother or sister! Roberto and Jill say being parents is the greatest joy in their life and they never take a single moment for granted. This family is so excited to again grow their family through the journey of adoption!
If you or someone you know is facing an unplanned pregnancy and considering adoption for their child, we hope that you will think of Roberto and Jill. To learn more about them, download their family profile. If you want to reach out to them directly, you can call/text them at (415) 226-9591, or email them by filling out the form below.