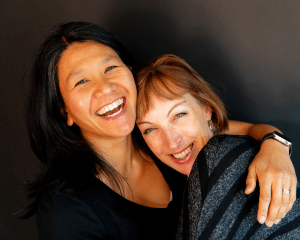 We are so thrilled to introduce you to this wonderful, home study approved Purl Family, and adoptive California family of 4: Lisa, Sylvia, and their beautiful children Kai and Lulu! Lisa and Sylvia have been together for 13 years, and feel grateful for each one. They have always dreamed of having a big family, and feel blessed to have been able to adopt before. This family is so excited to grow through adoption, once again!
This family loves animals and have a sweet little farm, with a few goats, a flock of chickens and fish in their small pond. They even have two baby goats who are so fun to watch and care for as a family. This family also loves to travel. They have family in the Philippines, Australia, Spain, Switzerland, Mexico and England. They camp every year at a beautiful mountain lake where their family has been camping for over 60 years!  According to Sylvia, Lisa enjoys coloring with crayons, being near the water and working with animals. Her vision of a happy home is one filled with kids and their friends and families. Lisa says that Sylvia loves being outdoors and active, working with her hands, and learning new things. She is so excited to be a mom of 3! Kai is a sweet 8 year old. He is a good friend to those in his class, and an even better big brother. He is so excited to have another little brother or sister! Lulu is 7 years old, just 6 months younger than Kai. She is artistic, joyful, and a nurturing sister. She is over the moon about becoming a big sister and helping out with the baby! Lisa and Sylvia can't wait to share their love of life, learning, adventure and community with their children.
If you or someone you know is facing an unplanned pregnancy and considering adoption for their child, we hope that you will think of Lisa and Sylvia. To learn more about this adoptive California family of 4, download their family profile. If you want to reach out to them directly, you can email them by filling out the form below.