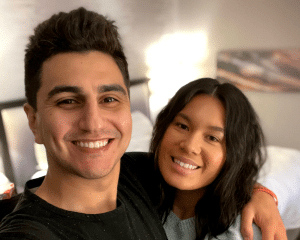 We are delighted to introduce you to this amazing, home study approved (and certified to adopt) Purl Family from Arizona: Anthony and Jill! These two met in their junior high band class; they both played drums. Nine years later, they went on their first date, fell in love and were soon married. Their marriage is strong and filled with laughter. They are so excited to grow their family through adoption!
Anthony and Jill love having fun, cooking, making art, and hiking together as a family. Their Italian, Mexican, and Vietnamese family members cook the best food! Their family loves Christmas, Santa even made an appearance at their wedding! Anthony and Jill can't wait to welcome a child into their large, loving, mixed-race family. Anthony says that Jill lifts others up with encouragement and laughter. He describes her as resilient, smart and kind. He knows she will stop at nothing to ensure their child is raised in a positive and healthy environment. In Jill's words, Anthony is loving and creative. She knows he will be the type of father who embraces their child's dreams and stop at nothing to help them achieve everything they set their heart on. Anthony and Jill, along with their family, have so much love to give and are excited to shower a child with adoration.
If you or someone you know is facing an unplanned pregnancy and considering adoption for their child, we hope that you will think of Anthony and Jill. To learn more about them, download their family profile. If you want to reach out to them directly, you can call/text them at (623) 295-9968, or email them by filling out the form below.