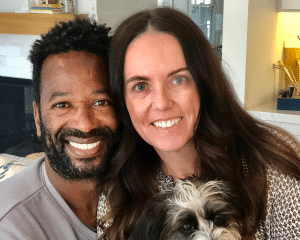 We are so happy to introduce you to this beautiful, home study approved Purl Family from California: Rahim and Eliza! These two met through a mutual friend and quickly realized that they were meant for each other. Rahim and Eliza have been married for 16 years, and cannot wait to share their love with a little one through adoption!
Whether they are traveling, going on a local adventure, or hanging out at home, Rahim and Eliza love spending time together. They both love to cook, educate others and be on the beach. The only thing missing from their life is a child. Rahim describes Eliza as his best friend. In his words, she believes in the beauty of kindness and always does her part to make the world a better place. According to Eliza, Rahim is the most patient person she knows. The thing she admires most about him is how important he makes those around him feel. Adoption is a path to parenthood that they have always been drawn to. Eliza's brother was adopted as a newborn and they are looking forward to growing their family in the same way. Rahim and Eliza have an abundance of love to give, and are so excited to become parents!
If you or someone you know is facing an unplanned pregnancy and considering adoption for their child, we hope that you will think of Rahim and Eliza. To learn more about them, download their family profile. If you want to reach out to them directly, you can call/text them at (562) 277-1865, or email them by filling out the form below.