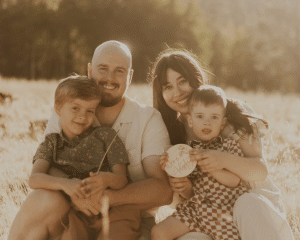 We are so excited to introduce you to this amazing, home study approved (and certified to adopt) Purl Family from Arizona: Ian, Emma and their adorable sons Gavin and Harrison! This is a tight-knit family that loves spending time together. Ever since Emma's older sister adopted 3 beautiful children, they have dreamed of adopting and can't wait to grow their family through adoption!
Emma and Ian met while Emma was in college at a Starbucks, they fell in love and have now been together for 6 years! According to Ian, Emma is extremely loving and doesn't ask for anything in return. She goes out of her way to do things for her family and makes things easier for everyone. In Emma's words, Ian is the most positive person, he is genuine and intentional in everything he does. This family loves to do things together and travel as much as possible, exposing their children to different cultures, values and ways of life is important to them. Their family enjoys going "all out" with decorations for the holidays. They are very close with their extended family, Emma is especially close with her 4 older sisters! They are all so excited to add to their family through the gift of adoption.
If you or someone you know is facing an unplanned pregnancy and considering adoption for their child, we hope that you will think of Ian and Emma. To learn more about them, download their family profile. If you want to reach out to them directly, you can call/text them at (480) 442-8427, or email them by filling out the form below.