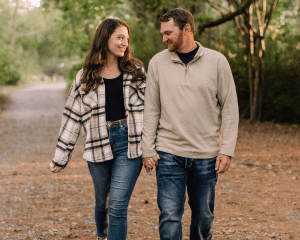 We are so excited to introduce you to this amazing, home study approved Purl Family, and Mississippi adoptive family: Rebecca and Travis! They met on a blind date set up through Rebecca's father, who Travis worked with at the time. It was truly love at first sight for these two and they couldn't be happier with their decision to meet. Now, they are thrilled to be starting this new journey of adoption together!
According to Travis, Rebecca has the biggest heart a person can have. When she loves someone or something, she loves fully and gives it her all. She is such a caring and kind person that others around her naturally feel the need to be more like her. Rebecca describes Travis as the perfect balance of being the serious "boss man" at his job and the goofy husband that can make everyone in the room laugh, he's someone that she can always count on to cheer her up on a bad day. Travis is the kind of guy that will stop on the side of the road if he sees that someone needs help.
These two don't take themselves too seriously and love to laugh and joke around together. They enjoy being outside, swimming in the pool, riding on the 4-wheeler, and taking the boat out on the water. They have always dreamed of having a family together and can't wait to add a little one to their family and have new adventures.
If you or someone you know is facing an unplanned pregnancy and considering adoption for their child, we hope that you will think of Rebecca and Travis. To learn more about this Mississippi adoptive family, download their family profile. If you want to reach out to them directly, you can email them by filling out the form below.